Home
A 21st Century Research University for 10,000 Students

The 2020 Project will provide significant amounts of new teaching and research facilities, housing, athletics and support space for UC Merced.  The ultimate result will be a vibrant, collaborative and sustainable campus that can accommodate 10,000 students.

Project Program

New Teaching Facilities, Research Laboratories and Faculty Offices
1,700 new beds of Student Housing
Transit hub and 1,500 parking spaces
Recreation, dining and student life amenities including an NCAA-II level swimming pool, tennis and basketball courts, an outdoor competition field, and a wellness center
New campus entrance at Bellevue Road
Conference Center
Approximately 1.2 million GSF
Mixed-use and collaborative
LEED Gold minimum
Complete by Fall 2020

Project Timeline

Fall 2016: Groundbreaking Ceremony
Friday, October 14, 2016, 1 p.m., South Bowl. Please RSVP here

Fall 2018: First Delivery
700 new student housing beds, 600-seat Dining Facility, classrooms and 940 parking spaces 

Fall 2019: Second Delivery
Wet Laboratory building and Computational Laboratory building with faculty offices, and NCAA-II level outdoor competition field

Fall 2020: Substantial Completion
New Wet Laboratory building with faculty offices and classrooms, research greenhouse, 980 new beds of Student Housing, 630 new parking spaces, Conference Center, dedicated Transit Hub for buses, new Wellness Center, Enrollment Center, expansion of existing Early Childhood Education Center, Competition Swimming Pool, 3 Tennis Courts, and 4 Basketball Courts 

Project Site

Learn more about the site where the 2020 Project will be developed.

Sign up for Updates

Get the latest project updates and more right in your inbox. 

Join our E-mail List to stay informed

 

Have a question or comment?
Construction Advisories
Advisory 4: Wooden footbridge and unpaved path will be closed beginning September 23, 2016
Construction hours begin at 7 a.m. Please be mindful of all construction-related signage and fenced areas.  These are placed for your safety. Click here for the latest updates on campus impacts related to its development.
The 2020 Project is a major four-year construction project to improve our campus.  The development team is committed to keeping the safety of students, faculty, staff, construction workers and the community a top priority.  We appreciate your patience.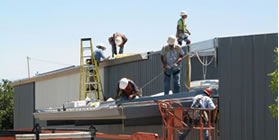 Quick Links
Multimedia and Rendering Gallery
Upcoming 2020 Project public presentations
Download a map of the post-2020 campus
Project Funding Sources and Budget
Meet the Project Development Team
Doing business with the Project
Firms interested in providing goods or services for the 2020 Project development team are encouraged to contact the team directly
Careers
Join the team of professionals working to deliver the 2020 Project 
Senior Project Analyst (Open)
Administrative Assistant (Open)