What's happening on the construction site right now 
UC Merced's campus expansion is underway. As construction unfolds, we understand some of the activity may impact you, as well as cause inconvenience. We greatly appreciate your patience as we do our best to accommodate the campus community during the construction period
June-August 2017 Road and Infrastructure Work
Between June 2017 and August 2017, four separate projects will be completed in order to improve road circulation and to expand critical infrastructure to the campus.  The work will be performed by construction contractors working under the supervision of the University, Merced County and Pacific Gas & Electric.   This page will include links and specific details as they are developed.
The four projects include:
Creating a new campus entrance at the intersection of Lake Road and Bellevue Road.
This work will be performed by Plenary Properties Merced under contract with the University.
Pavement repair along Ranchers Road between Lake Road and the Fairfield Canal.  This work will be performed under the supervision of the University.
Widening the shoulder of Lake Road between Yosemite Avenue and the UC Merced campus. This work will be performed under the supervision of Merced County.
Expanding the PG&E gas line along Bellevue Road between G Street and Lake Road. This work will be performed under the supervision of PG&E.
 
June 2017 Sitework
The road that services the east side of the Facilities Support Building (LSSF) and loading docks is schedule for closure from June 2nd through June 15th.  There will be no access through this road during this period.
Please expect increased traffic and congestion on Mineral King Road, Services Lane and Facilities Loop and there may be delays for service and delivery vehicles.  Please use caution and obey directional signage as there will be heavy machinery in operation and other construction activities for the duration.   
Preparations are also underway for the installation of an additional construction crane. 
May 2017
Reinforced Steel ("Rebar") for the first housing project is underway, as well as concrete pouring 
Excavation for the new Multipurpose Dining Facility and Academic Walk's below grade infrastructure.  
Site preparation work for new campus entrance at Bellevue Road and Lake Road
The campus' project team, its construction inspectors as well as the developer's team relocation to a set of trailers on the construction site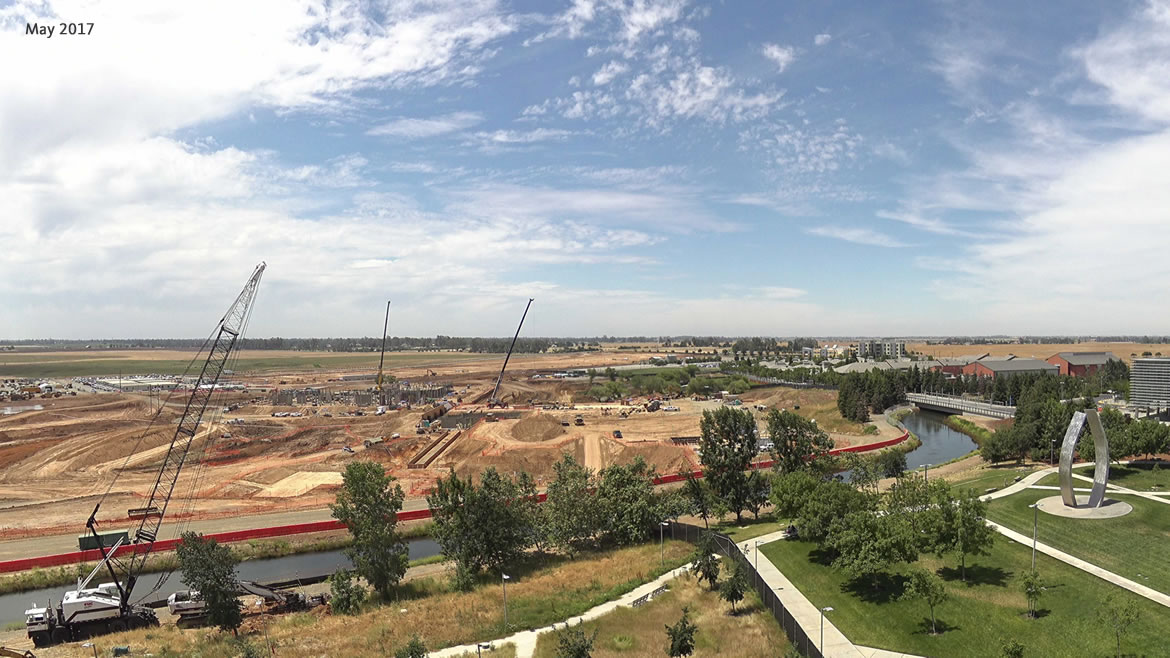 The Project will be completed in three phases
Construction began in Fall 2016. The anticipated schedule is for the first facilities to open in three annual phases beginning in Fall 2018.  In total, 13 new buildings as well as supporting infrastructure will be added to the campus.  We understand that this construction activity will impact you, as well as cause inconvenience. We greatly appreciate your patience as we do our best to accommodate the needs of the campus community during the construction period.
Should you have any general questions about the Project, please e-mail us at: construction2020@ucmerced.edu 
Archive of all Construction Look Aheads