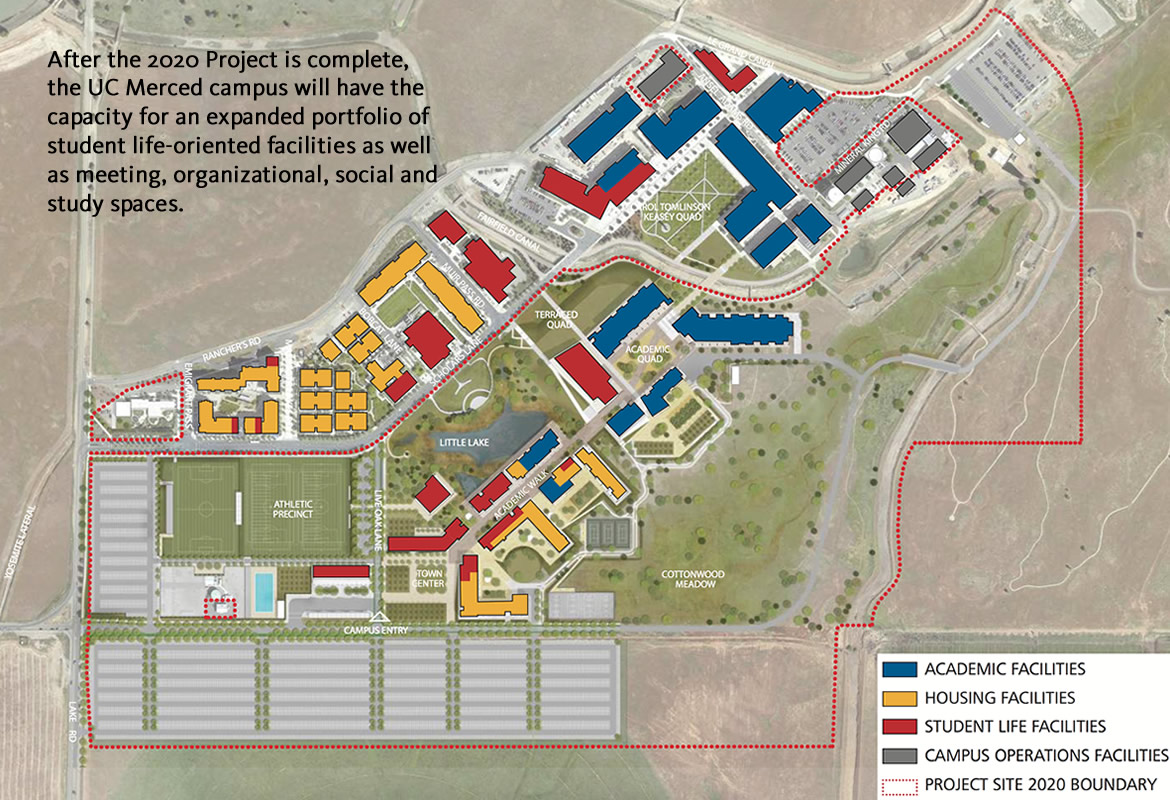 Strategically blended living, learning, wellness and recreation
The student life program has added living, learning, community and recreation spaces to the campus. Now that the new space has been added, UC Merced has the capacity to configure the entire campus' portfolio of student life space in order to further student success.
Download a summary of the Student Life and Recreation Program (PDF)
Student Wellness and Counseling Center
In Fall 2020, the Student Wellness and Counseling Center provided space for general wellness, disability services and counseling and psychological services. The program was created by determining the number of physicians and counselors needed to efficiently serve an expand campus.   Privacy, safety and patient flow have been the key considerations.
Student Life
The type and amount of student life space that was developed has been designed to address both existing space needs as well as the requirements expected with increased enrollment in the future.  It has included a flexible  space designed for student organizations distributed throughout multiple buildings, space for student government, a campus store, meeting rooms and a conference center ballroom.  The opportunity to add large amounts of multi-use student organization and activity space was an exciting time for UC Merced.   Undergraduate students, graduate students, faculty and staff have been invited to help develop a process for managing the use of UC Merced's physical facilities in a way that furthers student success and the University's teaching, research and public service mission.
Dining Pavilion
In the spirit of the Central Valley's architectural character, the 600-seat dining facility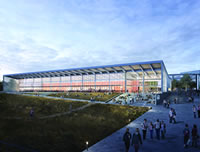 reinterprets the traditional "industrial shed," utilizing simple materials and a long-span steel structural system creating an expansive interior dining space with strong connections to the rest of the campus. The lakeside window wall of the dining facility engages the surrounding natural environment by opening to Little Lake and has served as an iconic and inviting addition to the campus. At night, the glow from the façade illuminates as a featured student life element within the larger campus.
Recreation and Athletics
An outdoor competition-level pool and outdoor competition fields has anchored an athletics and recreation district near the entrance to the campus. The Competition Field anchors the western edge of the site. Positioning the field here provides direct access to parking and to a shared plaza with the competition pool. Space has been provided adjacent to the fields to enable bleacher seating for spectators. Two additional full-size recreational fields have provided a venue for the campus community to engage in intramural sport activities, performances, and other campus activities.
In addition to the fields and pool, the project included new outdoor tennis and basketball courts.